FINALLY, a return to form…
Gone are the package films…
Here to stay are the stories…
Let's open this fairy tale book up…
PLOT –
Cinderella is a young woman dreaming for an escape in life. Her emotionally abusive step-mother and step-sisters force her to clean the house. When the Royal Ball invitation arrives, her chance to leave the house is granted by a Fairy Godmother, and Cinderella finds that dreams can come true.
Similar to Snow White, this film can be shortened to half an hour or so. There are a lot of extraneous scenes with the mice, and these scenes are probably the worst parts of the film. There are also some really weird scenes with the King and the Duke that are most likely odd because of animation, but logically, they don't make any sense. The rest of the film involving Cinderella directly is excellent though, as far as plot.
My PLOT RATING for "CINDERELLA" is 4 / 10 (2 / 5).
CHARACTERS –
Cinderella (Ilene Woods) herself is a great protagonist. She fends for her own, keeps a cheery attitude (especially with the animals) and while she doesn't truly move the plot along (aside from the finale), she is still a huge step forward for Disney, especially at their 12th film in the 1950's.
Lady Tremaine (Eleanor Audley) is an impressive Disney Villain. She's a realistic kind of evil, worse than any sorcerer, dragon, or witch in the other films. It's downright scary. Her tone and manner is curt and she almost never exits this mood, keeping her in control and creepy. The next Disney Villain she plays is personally one of my favorites, and while Lady Tremaine doesn't challenge her as a whole, she is certainly more evil and more of a threat to the protagonist than I initially thought.
Anastasia (Lucille Bliss) and Drizella (Rhoda Williams) are the two step-sisters. They're perfectly annoying obstacles to Cinderella, and don't have much character beyond that, but they don't need to.
The Grand Duke and the King (Luis Van Rooten) are an odd pair. Again, we see similar characters in the next Disney Princess film, but here, it's kind of ludicrous what they do. Sure, having a business meeting would be boring, but quick exposition cut into by hi-jinx is jarring here. Their scenes are too unreal for my taste, and it makes the magic seem less special.
The Fairy Godmother (Verna Felton) is a character, that for one scene, is memorable for the sole reason that she is the only (human?) to be kind to Cinderella. An interesting theory that I have is that she is modeled after Cinderella's mother, but this is unspoken in the film. She is a great character though. Kind, whimsical, and loving.
The Mice… (Jaq and Gus – James Macdonald, Perla – Lucille Williams) I used to really like them as a child, but now, they take up most of the movie, and have annoying voices. Gus is cute, but Jaq's raspy voice makes me think of smokers in a way. The other mice and animals are tolerable, but these two are somewhat insufferable and how convoluted their scenes are are completely unnecessary.
I must mention that I believe that these Mice are responsible for the Minions from Despicable Me.
Lucifer (June Foray) is the antagonist to the mice, and that's basically it. Takes up a lot of time, and literally stalls the plot. Yet, that voice casting is bizarre but awesome.
Prince Charming (William Phipps) is a non-character. He only exists for Cinderella to marry and has no character beyond that. He's incredibly bland.
My CHARACTERS RATING for "CINDERELLA" is 8 / 10 (4 / 5).
DIALOGUE –
The dialogue in the film is pretty good and moves the plot forward. The mice have their own vernacular, also. "Zuk zuk" apparently means "Yes yes". My big issue with dialogue is that it is not used enough to get meaningful character interactions and focuses on the plot.
My DIALOGUE RATING for "CINDERELLA" is 6 / 10 (3 / 5).
EFFECTS –
The effects in the film are gorgeous and the animation is really good. Lighting is awesome in the Lady Tremaine scenes, and the dress rip and magic dress creation scenes are awesome.
My EFFECTS RATING for "CINDERELLA" is 10 / 10 (5 / 5).
MUSIC –
The music is a step-up from the previous films. The score is good, and fits the scenes very well.
"Main Title / Cinderella" – A fine opener, and good start to the film.
"A Dream Is a Wish Your Heart Makes" – Beautiful, classic, and gets a reprise by the mice later on. The reprise is also good, but the original is amazing.
"Sing, Sweet, Nightingale" – Sung by the step-sisters and then Cinderella soon after. Brilliant use of character contrast in song.
"The Work Song" – Sung by the Mice as they fix the dress. Really cute and heartwarming that they're making a dress for her. Kind of empowering, actually, and the best part of the Mice in the film.
"Bibbidi-Bobbidi-Boo" – Surprisingly short, yet really catchy and memorable.
"So This is Love" – Never knew there was a male part of the song, but still, it's classic and memorable.
My MUSIC RATING for "CINDERELLA" is 10 / 10 (5 / 5).
OVERALL –
While a major step up from the package films, this film is more of a "square one" when compared to the other offerings Disney has provided so far. The effects, music, and characters have vastly improved since Snow White, but the film is dragged down by filler and dialogue that is simply padding. There is a remake of this film down the line, and it will be an interesting comparison indeed.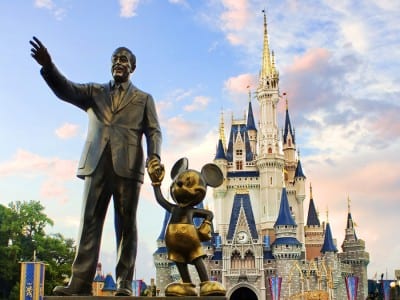 My OVERALL RATING for "CINDERELLA" is 76%.
Next time will be filled with
WONDER…
Stay tuned!