To Al's Toy Barn, and Beyond the First Movie!
PLOT – 
Something I really love about this film is the time it takes to set up each scene, and the plot itself. Around a third of the film is dedicated to just setting up the rest, and that boils down to the strength and likability of the characters. Here, they are all working towards established goals instead of being a crowd of split opinions. Woody and Buzz are split up this time around, meeting new characters along the way. While the plot is mostly divided among roughly four locations and traveling between them, the rest of the story is stuck in one place for quite some time until it arbitrarily seems time to go. It's worth noting that the characters here (especially the humans) drive the plot this time around, and it's very well done.
The running theme of identity is done pretty well here, with different avenues and iterations of Buzz and Woody explored within. This film relies more on backstory than the first, which is par for the course with sequels (especially animated ones) and works well here, particularly with Jessie. It also gives the lesson of choosing your future, rather than following a pre-destined path, key to identity.
My PLOT RATING is 8 / 10.
CHARACTERS –
Woody (Tom Hanks) is a better, kinder character here, and more caring towards others. A large portion of the story is focused on him, and his interactions with the new toys are fun. He is enticed and pushed towards stardom by the new toys, giving him a new distrust in Andy. He later realizes that he truly belongs with his original group of toys and rejects his so-called destiny,
Buzz (Tim Allen) is an interesting case. He is much the same character here, with a softer side to him. He also flips the script on not only Woody, but on another version of himself. New Buzz (also voiced by Allen) is basically Buzz from his opening scenes from the original Toy Story. This is a fun running gag that repeats itself in the films, and it holds a mirror to Woody's story. Both characters serve their story purposes well.
Jessie (Joan Cusack) does a great job as a new character here. Initially she's "the female Woody" but she is so much more. She's loud, brash, and full of life and love. She also has a painful past of being forgotten, and throughout the series, has this same separation anxiety and claustrophobia. Together with the help of the other toys, she somewhat overcomes her fears and learns that being loved is better than being famed.
Bullseye (Frank Welker), the trusty horse, is basically that, and kind of like a dog as well. He's great. Prospector (Kelsey Grammer) is a good character, too, his 'Stinky Pete' character being a facade for a more sophisticated archetype, also acting as a father figure to Woody.
The group of Andy's Toys is given more time, and they're funnier. Rex (Wallace Shawn) is now a gamer, and the rest are the same as before. Mr. Potato Head (Don Rickles) has a wife (Estelle Harris) and they share some great gags together. Hamm (John Ratzenberger) and Slinky Dog (Jim Varney, his last time voicing the character) are the same witty snarker and loyal helper.
Al McWhiggin (Wayne Knight) is hysterical. He fits a lot of archetypes: the nerdy toy collector, the sleazy businessman, and the cheapskate all rolled into one. He's pathetic and a joy to watch. There isn't much to the characters and they never really interact with him, but his plan is great to see fall apart even if he has several contingencies for it to succeed.
Other Characters include Andy (John Morris), who is again, the same as before, showing even more of his creative side, Barbie (Jodi Benson, (Yes, Ariel herself!)) plays a tour guide through 'Al's Toy Barn', and finally Zurg (writer Andrew Stanton), a minor antagonist and obsession of my childhood, rolling all the cool evil designs and colors into one character, even referencing another really cool villain in his story.
My CHARACTERS RATING is 9 / 10.
DIALOGUE –
This film has more heart than the first, rather than sarcasm. The edges are softened, and fit more in line with what Disney films are now. There are few references to other properties (some that Disney will own later), and a lot of the jokes land true. Sure, it's still really funny and witty a good 70% of the time, but that other 30% hits really hard at points. Poignant lessons and real emotions shine through and it truly tugs at the heart. Stanton and company really nailed the characters, setting them up for their greatest adventure (and sequel) yet.
My DIALOGUE RATING is 9 / 10.
EFFECTS –
This film just looks great. Texture and lighting are highlights, going deeper into the inner workings of toys, especially Woody, who gets a whole montage devoted to him. New Buzz in particular is animated pose-to-pose to mimic the limited animation of a 1950's action hero. More objects moving at once onscreen, and just more detail in general. Grime on the inner workings of an elevator, individual lines on cardboard boxes, and hair on a fat man's arm all… Look great! The individual textures from skin to plastic toy and in-between are well-defined, especially for a film coming out in 1999.
My EFFECTS RATING is 9 / 10.
MUSIC –
The music is very noticeable here, with individual actions getting themes. It's all in the same style and in service of the story, working very well. It sounds similar to the first film. I'm not sure if themes have been reused. I also wouldn't mind a darker tone, something in the vein of more mysterious or thrilling music, as these themes play it safe.
"You've Got a Friend in Me" (Randy Newman, Tom Hanks, Robert Goulet) – Same lyrics, different singers. Tom Hanks and Robert Goulet both give their takes on this famous song, both diagetic, which raises the question of who wrote this song in the Toy Story universe… I like both versions, with Hanks' being touching and Goulet's being showy.
"Woody's Roundup" (Randy Newman, Riders in the Sky) – A nice Western Theme Song, one of many I've heard in the past two years. It's not as bombastic as those, and evokes a kids' cartoon theme more than an epic Western. It's really catchy.
"When She Loved Me" (Randy Newman, Sarah McLachlan) – A sad song detailing Jessie and Emily's falling out and growing up, resulting in her being forgotten about then donated to charity. It's all done in montage, and is beautifully sung. Just don't think about the ASPCA…
My MUSIC RATING is 8 / 10.
OVERALL –
Toy Story 2 was initially not going to be in theaters. It also almost didn't get made after a hard drive failure, the only backup being at an animator's home drive. I'm glad this got made. The characters have been smoothed out and made to be more lovable. The jokes are more in the background, with the drama front and center. The music is a little hit and miss with some standout tracks. The effects are awesome as usual, being more detailed than ever. The plot is a little standstill at points, but it serves to deepen the characters and spend time with their motivations.
Toy Story 2 is better than its predecessor, and acts as a reboot of sorts to firmly set the characters' status quo…
Too bad we'll have to wait a decade to shake that up…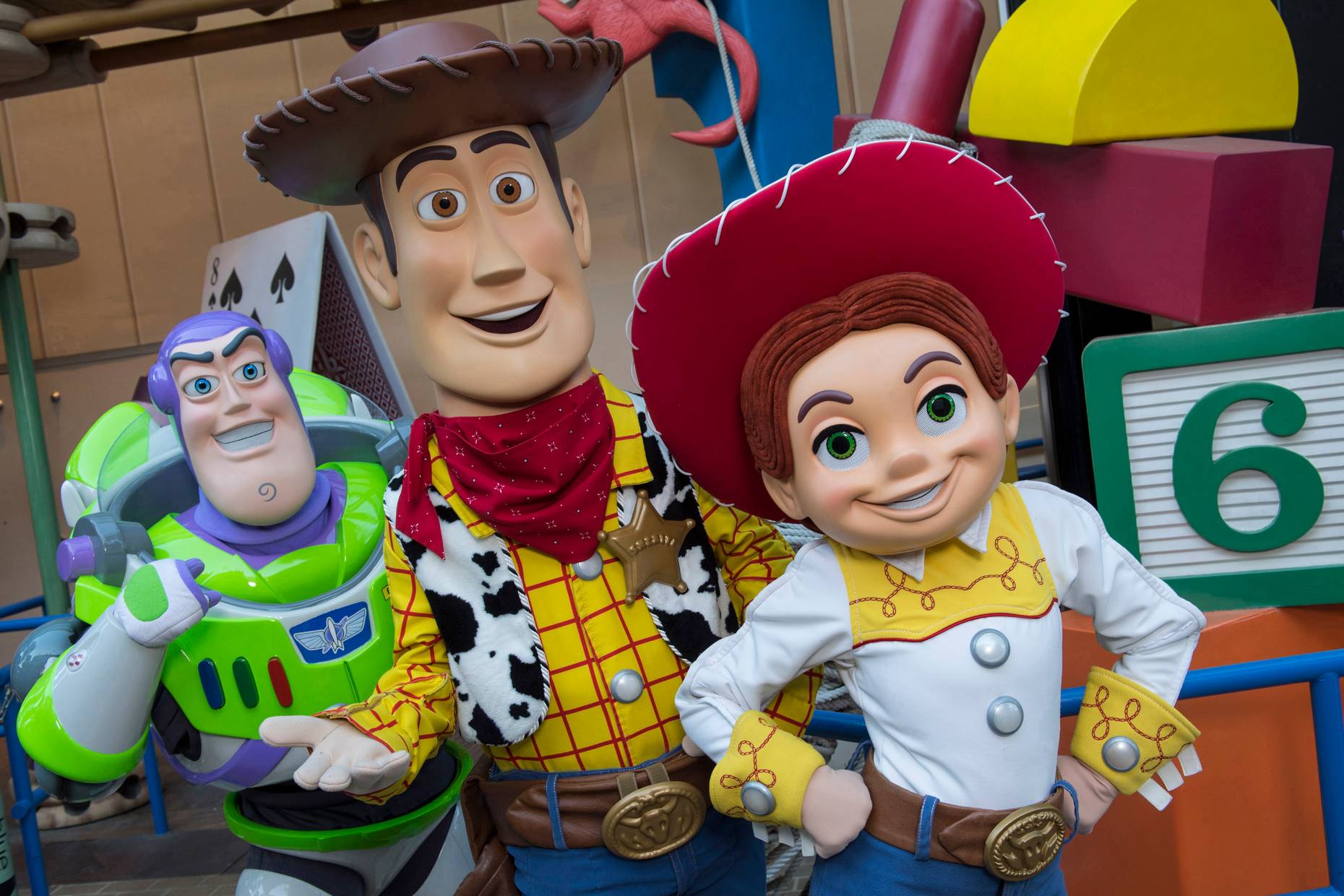 My OVERALL RATING for TOY STORY 2 is 86%.
Next time…
We've seen the secret worlds…
Of Toys…
Then Bugs…
Now…
MONSTERS…
Stay Tuned!